5-star design hotel in Les-Baux-de-Provence
The village of les Baux-de-Provence is located 10 minutes driving from our hotel b design & spa and allows him to be labeled « The Most beautiful village in France » .
This award is given by an association to the most beautiful villages of fewer than 2,000 inhabitants that have a rich natural and built heritage that have at least two sites being listed historic monuments.
Les Baux-de-Provence is a very picturesque and pedestrian only, which permit nice and quiet trip in its small streets.
The tour of the Château des Baux is not to be missed. This incredible site extends over 7 hectares and is the main vestige of the medieval past of the Baux de Provence. Visiting the castle is also is a good way to admire the typical landscape of the Alpilles and further the Camargue.
The "Must See" of Les Baux-de-Provence:
The Château des Baux, a medieval fortress that overhangs the Alpilles regional park.
The formidable Carrières de Lumières with its sound and lights show.
The Castle museum.
The Yves-Brayer Museum with its watercolour, engraving, and lithograph.
Saint-Vincent's Church.
The Santons Museum, which are typical ornamental figurines of Provence.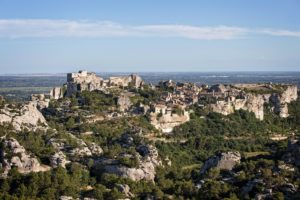 13
- (Bouches-du-Rhone)
Office du tourisme
Les Baux-de-Provence,
village membre du label